Select Your Injury Type
(check all that apply)
Little Rock Pulaski County Expert Witnesses
In every personal injury trial, or every personal injury lawsuit that is filed, a Little Rock personal injury attorney will retain at least one expert to testify. In today's world, at a bare minimum, your personal injury attorney will need to have the testimony of a medical doctor, preferably the treating physician, to give testimony that your injuries were, more likely than not, caused by your particular accident. Without this type of testimony, your personal injury claim could be defeated at the close of the plaintiff's case-in-chief.
Expert witnesses are defined under Arkansas Rule of Evidence 702, which states:
"If scientific, technical, or other specialized knowledge will assist the trier of fact to understand the evidence or to determine a fact in issue, a witness qualified as an expert by knowledge, skill, experience, training, or education, may testify thereto in the form of an opinion or otherwise."
Types of Expert Witnesses in a Little Rock Personal Injury Case:
A brief summary of the typical Little Rock expert witnesses one might see in a personal injury case is provided to aid in your understanding of why expert witnesses are so important to most personal injury lawsuits.
Expert Physicians' or Doctors' Testimony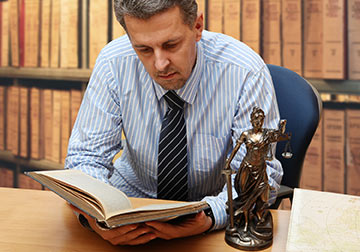 In every injury case, there are medical records, which serve as evidence. These medical records must be retrieved by your Little Rock Personal Injury Attorney in a manner that makes them admissible at the time of trial. Sometimes, Little Rock Personal Injury Law Firms will use what is a called a "record service company." This company, at the request of your Little Rock Injury Attorney, will issue a subpoena to the medical records custodian to answer certain questions when the subpoenaed medical records are given to the court reporter. Once these records are admissible, they become freely usable evidence at your personal injury trial.
However, having admissible medical records and medical bills is not enough to get your case submitted to the jury. You must have medical testimony based upon reasonable medical possibilities. This means that you must prove that more likely than not, your injury was medically caused by the event. In some instances, this is crystal clear. For example, if you are involved in a car accident on Westheimer in Little Rock and you received a broken arm, it would seem quite clear that you received the broken arm from the auto accident. But you still need a doctor to testify that your broken arm was causally related to your Little Rock traffic accident.
Sometimes, however, the medical issue is not so clear. Frequently, when somebody suffers a herniated disc in their back, the defense counsel will try to show that the herniated disc pre-existed the accident and, therefore, there was no injury. This makes the testimony of a Little Rock orthopedic surgeon critical to your case. In other cases, such as exposure to toxic substances, it may not be clear that the exposure is the cause of your respiratory problems. In this type of case, the expert testimony of a pulmonologist is critical.
Expert physicians often rely upon what is called in the law, "learned treatises." Under Rule 803(18) of the Arkansas Rules of Evidence, whatever technical information the expert doctor relies upon for testimony must be the type of literature that is typically relied upon by similar experts in his field.
Finally, a doctor usually testifies that your medical bills are:
reasonable;
customary in Little Rock, Pulaski County, Arkansas; and,
necessary to properly treat the injured plaintiff for the injuries that were sustained.
When this testimony is garnered by your Little Rock Accident Attorney, the jury is entitled to consider how much should be awarded for past medical charges. For future medical charges, a doctor must testify that, based upon reasonable medical probabilities, you will require future medical care and are entitled to receive the cost of that future medical care as part of your damage award. Under these circumstances, a Pulaski County jury will be able to award monetary damages for future medical care.
Economic Damage Experts
In addition to having a doctor testify, your Little Rock Injury Lawyer will undoubtedly have an economist testify. A Pulaski County Personal Injury Lawyer will often call a certified public accountant (CPA) to testify. That economics expert will rely upon your prior W-2 statements, your prior income tax returns, and, in some cases, they will have to reconstruct your income from receipts if you did not file income tax returns as required by federal law.
When an economist testifies, he/she must give the jury testimony for past loss of wages, or past loss of earning capacity, as well as future loss of wages and/or future loss of earning capacity. In determining your future loss of earning capacity, they usually select 65 years of age to compute your work-life expectancy. For example, if you were 28 years of age when you were seriously injured and it took one year to get to trial in Pulaski County, Arkansas, you would be 29 years of age at the time of trial. If you did not work from the date of injury to the date of trial and that time period was one year, you would have one year's worth of wage loss in the past; and because you were 29 years of age at the time of trial, you would have 36 years of future loss of earning capacity.
Additionally, the testimony from the economist or accountant could be required to be presented to the Pulaski County trier-of-fact in present dollars and, therefore, a "discount factor" must be incorporated in the economist's testimony. This is true because the Pulaski County jury could be asked: "What sum of money, if now paid in cash, would fairly and reasonably compensate [injured person] for their injuries and damages?"
Vocational Rehabilitation Expert Witnesses
Quite often, your Little Rock Injury and Accident Attorney will retain a certified vocational rehabilitationist to testify when your case go es to trial. A Vocational Rehabilitationist looks at all the medical records, reads the doctor's deposition, and does testing upon the injury victim. The types of testing that are performed include:
IQ tests;
psychological surveys;
skills assessment tests;
the WAIS-R IQ tests;
aptitude testing; and,
learning disability testing.
Further, a comprehensive vocational evaluation is performed to determine your transferable skills, and then the testing, as well as the physician's analysis, are all summarized and employability analysis is performed. The defense will undoubtedly try to show that you can go back to work and keep gainful employment. They do this to reduce the amount of your future economic wage loss or future loss of earning capacity.
If you are the plaintiff in a serious injury case, it is essential that you retain your own vocational rehabilitation expert.
Life Care Plan Expert Testimony
In serious injury cases involving paralysis, paraplegia, quadriplegia, or the need for a prosthesis, your Pulaski County Injury Lawyer may need to create a life care plan. These can be prepared by persons experienced in social work or, alternatively, a registered nurse or licensed vocational nurse (LVN) with experience in life care planning can testify on these topics. Some of the factors that are considered are the cost of a van outfitted with handicapped accessibility items, ramps to and from your house, as well as, in some instances, the cost of home health care. The court will treat all of these items similarly to future medical bills.
Special Requirements in Little Rock Medical Malpractice Cases
In a Arkansas Medical Malpractice lawsuit, the victim is required to have a physician, from within the school of science involving the alleged allegation of negligence, render an expert report that must be produced to the defense. This must be done within 30 days of filing your Little Rock Medical Malpractice lawsuit. Failure to supply this report can have serious repercussions on your potential Little Rock medical malpractice claim. Information on what needs to be filed is contained in § 16-114-209: False and unreasonable pleadings.
The specific requirements for the doctor who writes the expert report also apply to Little Rock Medical Malpractice Expert Witnesses.
Further requirements for the expert witness can be found in § 16-114-207. Conditions for expert testimony. These requirements prevent a witness from being paid to reach a certain conclusion.
Under § 16-114-206: Plaintiff's burden of proof, the victim needs to prove, with the help of such an expert that:
(a) In any action for medical injury, when the asserted negligence does not lie within the jury's comprehension as a matter of common knowledge, the plaintiff shall have the burden of proving:
(1) By means of expert testimony provided only by a medical care provider of the same specialty as the defendant, the degree of skill and learning ordinarily possessed and used by members of the profession of the medical care provider in good standing, engaged in the same type of practice or specialty in the locality in which he or she practices or in a similar locality;
(2) By means of expert testimony provided only by a medical care provider of the same specialty as the defendant that the medical care provider failed to act in accordance with that standard; and
(3) By means of expert testimony provided only by a qualified medical expert that as a proximate result thereof the injured person suffered injuries that would not otherwise have occurred.
Federal Expert Witness Standards
In 1993, the United States Supreme Court decided Daubert v. Merrell-Dow Pharmaceuticals, 509 U.S. 579 (1993), which dealt with the standard in the Federal Rules of Evidence for admitting the testimony of scientific experts. In Daubert, the Supreme Court was establishing the trial judge as a "gatekeeper" to ensure that any and all scientific testimony is not only relevant, but reliable. After Daubert, federal trial judges must decide for themselves whether an expert's methodology is reliable. In almost every Little Rock, Pulaski County, personal injury lawsuit, either the defense or the plaintiff's counsel, and sometimes both, will file a "Daubert/Robinson Challenge," challenging an expert's opinions, either in whole or in part.
In Arkansas, the Arkansas Supreme Court, after Daubert, decided Farm Bureau Mut. Ins. Co. v. Foote, 341 Ark. 105, 14 S.W.3d 512 (2000). In this case, the Supreme Court of Arkansas adopted Daubert as Arkansas law.
As you can see, preparing your Pulaski County personal injury case is extremely difficult and fraught with pitfalls and potholes. Attempting to handle your own personal injury case in Little Rock, Pulaski County, Arkansas, would be legal suicide. Please contact one of the qualified Little Rock Personal Injury Lawyers on this page to assist you in your claim.
Serving clients throughout Central Arkansas, including Adams Field, Agusta, Arkadelphia, Batesville, Beebe, Benton, Cabot, Clarksdale, Clarksville, Conway, Dumas, England, Fordyce, Forest City, Hope, Hot Springs, Iron Springs, Jacksonville, Little Rock, Malvern, Mayflower, Mena, Morrilton, Nashville, Pine Bluff, Russellville, Searcy, Sheridan, Spadra, Waldron, Warren, and other communities in Pulaski County.